User experience is a fickle thing, and in an increasingly digital economy, payment for a good or service must become so seamless for the user that it's almost forgotten. Subscription-based services are on the rise, especially in software-as-a-service.
Once a subscription platform delivers value to end customers, online business payment solutions must integrate with the platform seamlessly or risk a lot of operational and financial inefficiency. But the great part about subscription platforms is how easily they integrate APIs and portals for FinTech payment solutions.
As a business model overall, subscription service is an effective way to retain and build trust with customers. It provides a business with recurring payments and uninterrupted service while constantly delivering value and services to end customers.


What is a Subscription Service?
This as-a-service model has become a Pandora's Box that many companies in many unexpected industries are at least pilot-testing as a means of adapting their business models. If you can offer a valuable service on a month-to-month basis, you can collect revenue faster and in smaller bits because a customer has a lower barrier to entry and the opportunity to change their mind after subscribing for a month or less. You can take care of business payables with similar ease, as the same FinTech connections can satisfy vendors, employees, partners or shareholders, contractors, and more.
Ultimately, a business model should serve a paying customer before anyone else. A fundamental shift in this model means executives can make revenue based less on sales and more on activating subscriptions, with or without a trial period. It offloads the inherent deliberation of the consumer's consideration phase (of the elementary sales funnel) and lets the subscriber's actual experience take over for the salesperson; whatever the customer enjoys will be theirs as long as they elect to pay the subscription fee. Consumers and businesses alike can avoid "locking in" with product purchase since, in essence, they're just renting daily, weekly, monthly, or yearly access to a good or service they value.
In some cases, it can massively diversify the end-user's access to goods or services of value, so there's always something to enjoy, especially where they're spoiled for choice.
Some common examples of subscription-based services include:
Streaming services, such as Netflix, Disney + and DAZN
Video games, such as the Xbox Gamepass
Content, such as Shutterstock and iStock
Box concepts, such as Dollar Shave Club, Chef's Plate and Birchbox
Software-as-a-service, such as Salesforce, Slack, and Microsoft Office 365
Traditional memberships, such as gym, mobile phone, and club memberships


The Advantages of a Subscription Management Platform
Ease of financial transfer is the lifeblood of online subscription-based platforms. And webhooks represent the veins. Webhooks for payment products like ​​Interac e-transfer, electronic funds transfer (EFT), visa direct, and virtual wallets are everywhere—so you can trigger payments based on scheduled dates or even in-API events. It's an automated world out there, and online payment solutions are easily integrated. If your platform facilitates payments, the ease of transaction can make accounts payable that much easier for you and your business.
A streamlined, scaling subscription service needs a seamless integration process. Whether on mobile or desktop, your business can easily integrate a subscription management platform within your organization, and most importantly, for the end-user's preferred device. As a subscription customer's needs change, unplugging from the recurring service model is easy. And one of the best parts is how secure and transparent everything is for anyone remaining connected to the platform. Rest assured that business payments always find the right person, thanks to the rigorous security and on-platform identity confirmation.


Scaling the Payments Side of Subscription Platform Businesses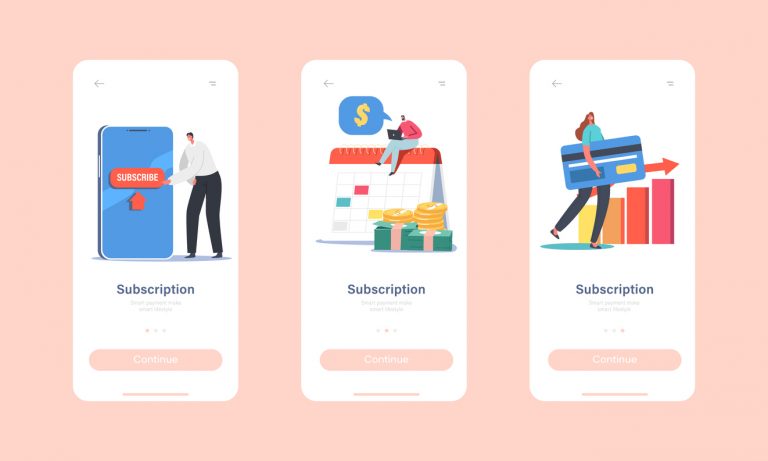 Globally scaling is possible through subscription-based services. Provided you can do your service online, the value you host can spring from cyberspace rather than having sales or distribution centres overseas. You'll be in control of a space that runs according to your terms of service. That means fewer complexities of international business.
Businesses that offer SaaS and other subscription-based services need a payment processing system that is rugged and versatile enough to handle the demands of an ever-increasing user base. They require a solution that meets the needs of vendors and subscribers and is affordable, convenient, and easy to use. These include credit or debit cards or digital payment methods like digital wallets, electronic funds transfers (EFTs), and Interac. It can minimize friction between you and your payee and streamline your payment process, satisfying your timeframe for accounts payable.
As you can see, there are many substantial advantages to implementing a subscription management platform both for your business' operational efficiency and your end customers' benefit. If you would like to know more, check out Pateno's "Subscription & Membership Platform" details here.


---
Pateno is the only business payment solution you will ever need. Our innovative payment solutions ensure a more streamlined, secure, and flexible way to transfer money. Via our API technology, you can initiate payments from existing web pages, portals, and apps, scaling your capabilities as your industry changes. From tip disbursement to loan management payments, our highly intuitive and simple-to-use system can be easily integrated, instantly enhancing and streamlining your money transfers. Contact our sales representative to learn more today.